One kick's as good as another
Things people forget to mention when you move 8 hours from what has been your home for six years:
1) It will be stressful. Even if it seems to go rather smoothly and you haven't had a serious breakout since you were 16, one will appear your first day of work and last weeks. Perhaps even a month.
2) Nobody will speak your language. Your friends have spent years learning how to read you: your sarcasm and wit, your moods, what you don't say and what you do. Your old coworkers invested time in doing the same. The new people - your new coworkers and neighbors - don't know you from Eve. Yes, that is you nervously tittering at your own joke/pop-culture reference. No, you're not crazy. Someone used to laugh with you. You really are funny. They just have to learn you first.
3) The aforementioned break-out may have only a little to do with stress. Or nothing at all if breakouts are not your usual response to stress (and they're not-- you spent a good deal of time in high school risking life, limb and future reproductive health making sure of that. They don't even sell Accutane anymore... it was that good). Indeed, moves across large portions of the globe include changes not only in temperature and climate but water composition, humidity and elevation. And these things don't just affect your skin. They affect your hair too.
4) It is important to find three things: a doctor, a mechanic and a stylist. Not neccessarily in that order.
5) Finally, if you are moving to New England, it is imperative you memorize the following: Exfoliate, Moisturize, Repeat.
----------------------------------------
My skin issues have been resolved thanks to a bouncy sales duo at The Body Shop. Thank heaven for Irish Seaweed, Cocoa Butter and Almond Extract. And thanks to a Bumble and Bumble salon, I have two eyebrows and sexy silky head of hair. So, onto bigger and better things. Like this kid: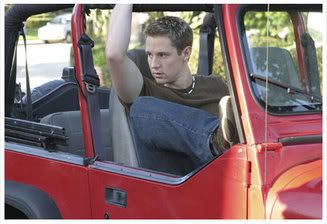 For those of you who are unware of the minor-deity upon whom you are casting your eyes, this in Logan Echolls: psychotic-jackass-hottie counterpart to Veronica Mars. For the first time since my junior year of college I have a prime-time crush and I'm so not ashamed to admit it. Not since the indubidable Pacey Witter (Joey never did better than Pacey... on the other hand, he could always have done better than her. She was uber-pouty!) a character from the small screen has captured my attention (okay, so McDreamy, McAsshole and McSteamy came close... but none of them was really snarky or bad
enough
). What to see
more
? Or, if you prefer
angst
...
How does one get over a television crush. Particularly when one's most signifigant relationship is currently with their computer? (Gregory fell off my bed today, which was really inevitable given the lack of Wi-Fi and subsequent connection to one cord too many. I nearly had a stroke. That's right. I named my hard drive and worry after its health). In this case one watches interviews with Jason Dohring, Logan's real life counterpart. So married, so boring, so method, so not crush-worthy. It never worked with Joshua Jackson. I mean.... seriously *
la sigh
.* And I still look forward to Logan entering my living room on occasion. But the spark is gone.
But, in all seriousness. Watch Veronica Mars. And find your local Body Shop.